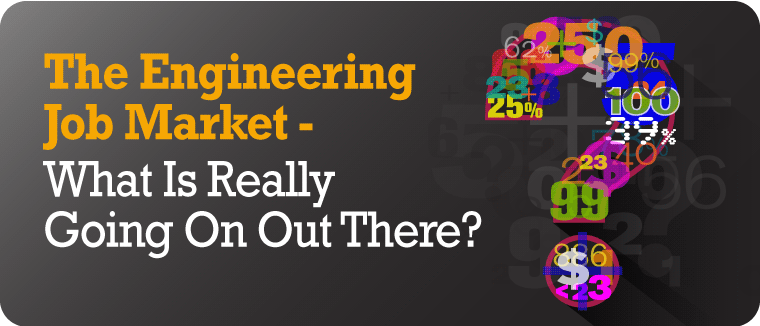 If you follow and try to make sense of the current and future engineering job market, your head is likely spinning. On any given day you can read reports of: the bright future of the engineering sector, the imminent shortage of Science, Technology, Engineering and Math (STEM) talent, the huge talent gap being left by retiring Baby Boomers, the slowdown in engineering job creation, and engineering unemployment lines.
What is really going on? Most importantly, whether you are responsible for hiring engineering and technical talent or if you are managing your career as an engineering professional, how can you best plan for the future?
Although there are numerous challenges as we work to make meaningful conclusions from engineering labor market data, three areas of challenge are extremely significant – national data, data collection approaches, and changing titles/emerging fields.
A deeper dive into the sources of labor data, an exploration of data nuances and knowledge of the engineering field is required. With the goal of setting the stage for an ongoing exploration of the engineering field, this post explores some of the challenges when evaluating engineering labor market data. Additionally, the post outlines both the long-term national forecast and the short-term outlook in the Midwest for the engineering disciplines tracked by the Bureau of Labor Statistics (BLS).
Challenge 1 – National Data
A big challenge when working to make sense of the engineering job market data we typically see in the press is that the data is most often national data. National data, especially when there are significant shifts within large industries, can be very misleading. For example, by 2024 the Bureau of Labor Statistics (BLS) projects modest job growth of only 2% for the chemical engineering field. However, the American Chemical Society and others close to the industry project increases closer to 4-5%.* Regardless of whether the BLS or the American Chemical Society figures are accurate, geography and industry movements are key pieces of information missing from the projections.
The oil and gas market, an enormous industry, lost nearly $100 billion in revenue from 2014 to 2015 and this market is expected to be depressed for the next 12-18 months. Therefore, the engineering job market in heavy petroleum states like Texas and Alabama has been extremely hurt, pulling down the national figures for many engineering disciplines including chemical engineering. This does not mean, however, that there is not healthy engineering job growth in Illinois or Michigan. In short, the national numbers we often see in the press need further evaluation.
Challenge 2 – Data Collection Approaches
The Bureau of Labor Statistics (BLS) national projections come from a rollup of state-level employment agencies. While the state-level data that rolls up into the national projections is a rich source of insight, there are inherent problems as some state-to-state differences do occur. For example:
"Short-term employment projections are developed by each state and therefore are subject to work schedules and other related constraints of each state."
Additionally, particularly affecting short-term projections, not all states define the same reporting period.
"The projection period includes the short-term period up to 2017 for all participating states. Participating states may project from different quarters within the base and projected years. For example they may project from 2015:Q2 to 2017:Q2 or from 2015:Q4 to 2017:Q4."
Projections Central: State Occupational Projections website
Challenge 3 – Changing Titles & Emerging Fields
Another significant problem with BLS and state-level data is that agencies have a very challenging time accurately reflecting jobs that do not meet traditional title naming conventions. For example, an automotive components manufacturer may have positions with a Platform Manager title requiring professionals with mechanical engineering backgrounds. While a lucrative position for a mechanical engineer, there is a good chance that Platform Manager positions will be missing from state-level, therefore national engineering jobs data.
As complexity and specializations increase within many organizations and industries, position titles are less and less consistent. This lack of consistency and continual development of new titles will contribute to murkiness in the numbers on an ongoing basis.
In addition to evolving titles that makes tracking difficult and less accurate, emerging industries can further complicate the data. Emerging industries hiring engineers typically take some time to make their way into the state-level and national numbers.
In the end, the objective of this post was not to create further confusion. Rather, the objective was to create the very initial foundation for an ongoing discussion. The new 180 Engineering blog will regularly dive into issues affecting both organizations hiring top engineers and individual engineers managing their careers.
Given the rapid changes within engineering professions and in the world at large, our blog is intended to be an ongoing source of information, insight and discussion. To start the dialog, as mentioned earlier in this post, we pulled both national and Midwestern state-level data for the engineering titles tracked by the Bureau of Labor Statics (BLS).
The Number of Jobs, Job Outlook and Employment Change figures are national long-term numbers (years 2014-2024). The state figures reflect short-term projections – specifically the number of jobs projected by 2017.
These numbers are the total projected number of positions for each discipline, not overall hiring activity. For instance, fields with high numbers of retiring Baby Boomers may have robust hiring activity even if there are lower levels of overall job creation.
What do you think of these numbers? What are you seeing out there? We are looking forward to your thoughts.
The initiative to create this blog ties in directly with 180 Engineering's love of helping both hiring organizations and professionals navigate within these changing times -contact us if we can help. (link to contact page)
Bureau of Labor Statistics Job Projections by Tracked Engineering Disciplines
Aerospace Engineers:
Number of Jobs in 2014: 72,500
Job Outlook, 2014-24: -2% (Decline)
Employment Change, 2014-24: -1,600
Illinois: 660 2015 jobs, 670 2017 projected
Indiana: 100 2015 jobs, 100 2017 projected
Ohio: 4,800 2015 jobs, 4870 2017 projected
Wisconsin: 70 2015 jobs, 80 2017 projected
Biomedical Engineers:
Number of Jobs in 2014: 22,100
Job Outlook, 2014-24: 23% increase
Employment Change, 2014-24: +5,100
Illinois: 310 2015 jobs, 330 2017 projected
Indiana: 1,160 2015 jobs, 1,260 2017 projected
Iowa: 70 2015 jobs, 70 2017 projected
Michigan: 330 2015 jobs, 360 2017 projected
Minnesota: 990 2015 jobs, 1,050 2017 projected
Ohio: 600 2015 jobs, 620 2017 projected
Chemical Engineers:
Number of Jobs in 2014: 34,300
Job Outlook, 2014-24: 2% increase
Employment Change, 2014-24: +600
Illinois: 1,310 2015 jobs, 1,330 2017 projected
Indiana: 740 2015 jobs, 750 2017 projected
Iowa: 230 2015 jobs, 240 2017 projected
Michigan: 670 2015 jobs, 690 2017 projected
Minnesota: 570 2015 jobs, 590 2017 projected
Missouri: 610 2015 jobs, 630 2017 projected
Ohio: 1,190 2015 jobs, 1,180 2017 projected
Wisconsin: 400 2015 jobs, 420 2017 projected
Civil Engineers:
Number of Jobs in 2014: 281,400
Job Outlook, 2014-24: 8% increase
Employment Change, 2014-24: +23,600
Illinois: 10,390 2015 jobs, 10,690 2017 projected
Indiana: 2,940 2015 jobs, 3,070 2017 projected
Iowa: 1,730 2015 jobs, 1,790 2017 projected
Michigan: 6,540 2015 jobs, 6,940 2017 projected
Minnesota: 4,170 2015 jobs, 4,300 2017 projected
Missouri: 3,940 2015 jobs, 4,020 2017 projected
Ohio: 7,400 2015 jobs, 7,580 2017 projected
Wisconsin: 4,820 2015 jobs, 4,890 2017 projected
Computer Hardware Engineers:
Number of Jobs in 2014: 281,400
Job Outlook, 2014-24: 8% increase
Employment Change, 2014-24: +23,600
Illinois: 2,090 2015 jobs, 2,190 2017 projected
Indiana: 510 2015 jobs, 530 2017 projected
Iowa: 310 2015 jobs, 310 2017 projected
Michigan: 1,140 2015 jobs, 1,190 2017 projected
Minnesota: 1,570 2015 jobs, 1,630 2017 projected
Missouri: 220 2015 jobs, 220 2017 projected
Ohio: 980 2015 jobs, 990 2017 projected
Wisconsin: 920 2015 jobs, 860 2017 projected
Electrical Engineers:
Number of Jobs in 2014: 315,900
Job Outlook, 2014-24: 0% increase
Employment Change, 2014-24: -100
Illinois: 5,200 2015 jobs, 5,260 2017 projected
Indiana: 3,490 2015 jobs, 3,550 2017 projected
Iowa: 1,300 2015 jobs, 1,330 2017 projected
Michigan: 9,270 2015 jobs, 9,700 2017 projected
Minnesota: 3,510 2015 jobs, 3,570 2017 projected
Missouri: 3,770 2015 jobs, 3,900 2017 projected
Ohio: 4,960 2015 jobs, 5,020 2017 projected
Wisconsin: 4,300 2015 jobs, 4,320 2017 projected
Environmental Engineers:
Number of Jobs in 2014: 55,100
Job Outlook, 2014-24: 12% increase
Employment Change, 2014-24: 6,800
Illinois: 1,370 2015 jobs, 1,410 2017 projected
Indiana: 610 2015 jobs, 640 2017 projected
Iowa: 180 2015 jobs, 180 2017 projected
Michigan: 1,720 2015 jobs, 1,820 2017 projected
Minnesota: 790 2015 jobs, 830 2017 projected
Missouri: 460 2015 jobs, 460 2017 projected
Ohio: 980 2015 jobs, 1,000 2017 projected
Wisconsin: 730 2015 jobs, 750 2017 projected
Health and Safety Engineers:
Number of Jobs in 2014: 25,200
Job Outlook, 2014-24: 6% increase
Employment Change, 2014-24: 1,600
Illinois: 850 2015 jobs, 870 2017 projected
Indiana: 380 2015 jobs, 400 2017 projected
Iowa: 150 2015 jobs, 160 2017 projected
Michigan: 660 2015 jobs, 690 2017 projected
Minnesota: 380 2015 projected, 390 2017 projected
Missouri: 430 2015 jobs, 440 2017 projected
Ohio: 630 2015 jobs, 690 2017 projected
Wisconsin: 390 2015 jobs, 410 2017 projected
Industrial Engineers:
Number of Jobs in 2014: 241,100
Job Outlook, 2014-24: 1% increase
Employment Change, 2014-24: +2,100
Illinois: 10,000 2015 jobs, 10,140 2017 projected
Indiana: 8,210 2015 jobs, 8,610 2017 projected
Iowa: 2,410 2015 jobs, 2,430 2017 projected
Michigan: 23,500 2015 jobs, 24,660 2017 projected
Minnesota: 7,960 2015 jobs, 8,110 2017 projected
Missouri: 4,010 2015 jobs, 4,260 2017 projected
Ohio: 12,450 2015 jobs, 12,690 2017 projected
Materials Engineers:
Number of Jobs in 2014: 25,300
Job Outlook, 2014-24: 1% increase
Employment Change, 2014-24: +300
Illinois: 680 2015 jobs, 680 2017 projected
Indiana: 1,260 2015 jobs, 1,320 2017 projected
Iowa: 230 2015 jobs, 230 2017 projected
Michigan: 1,520 2015 jobs, 1,580 2017 projected
Minnesota: 330 2015 jobs, 330 2017 projected
Missouri: 420 2015 jobs, 450 2017 projected
Ohio: 1,530 2015 jobs, 1,520 2017 projected
Mechanical Engineers:
Number of Jobs in 2014: 277,500
Job Outlook, 2014-24: 5% increase
Employment Change, 2014-24: +14,600
Illinois: 11,840 2015 jobs, 12,080 2017 projected
Indiana: 10,810 2015 jobs, 11,430 2017 projected
Iowa: 2,470 2015 jobs, 2,500 2017 projected
Michigan: 41,930 2015 jobs, 44,820 2017 projected
Minnesota: 6,830 2015 jobs, 6,980 2017 projected
Missouri: 3,830 2015 jobs, 4,010 2017 projected
Ohio: 12,390 2015 jobs, 12,610 2017 projected
Wisconsin: 8,620 2015 jobs, 8,750 2017 projected
Nuclear Engineers:
Number of Jobs in 2014: 16,800
Job Outlook, 2014-24: -4% decrease
Employment Change, 2014-24: -700
Illinois: 930 2015 jobs, 930 2017 projected
Michigan: 530 2015 jobs, 540 2017 projected
Minnesota: 190 2015 jobs, 190 2017 projected
Wisconsin: 130 2015 jobs, 130 2017 projected
Sources:
-Bureau of Labor Statistics (BLS)
-Projections Central: State Occupational Projections website
-"Chemical Engineers Face Favorable Future," Chemical Processing, January 2016